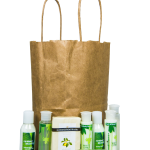 Angels of Action has received wonderful support since its inception.  Because of the generosity of our community, over 600 K-4 children in Barryton, Big Rapids, Mecosta, and Morley-Stanwood elementary schools are now receiving food to take home each weekend.  We are starting another project to improve the lives of many of these children.
At the request of the schools, Angels of Action will be providing hygiene kits that will be distributed by the schools.  Not all of the children receiving the weekly backpacks of food will need the hygiene kits, but several will be on hand at each elementary school that can be given to children who need them the most.
As Angels of Action begins this project, we are seeking the help of the community by asking to donate the items that will be needed for the kits.
We are in need of the following items:
Shampoo and Conditioner (trial or hotel size)
Soap
Washcloths
Body Lotion or Cream (trial or hotel size)
Combs
Hair Brushes
Chapstick
Small Tissue Packs
At this time we do not need toothbrushes, toothpaste, or floss.
Items can be dropped off at any of our FEED FRED boxes, located at:
Angels of Action office:  210 Maple, Big Rapids, MI
Century 21 White House Realty:  10060 Buchanan Road, Canadian Lakes, MI
Complete Cleaning & Restoration:  725 S. 3rd Avenue, Big Rapids, MI
Lerner Csernai & Fath Financial Group:  15505 Waldron Way, Big Rapids, MI
Morley Stanwood High School:  4700 Northland Drive, Morley, MI
Sweeney-Holbeck-Edison Insurance Agency:  145 W. Wheatland, Remus, MI
If you have any questions, please call Joni Thompson @ (734) 716-2121.